What to expect in the treatment process: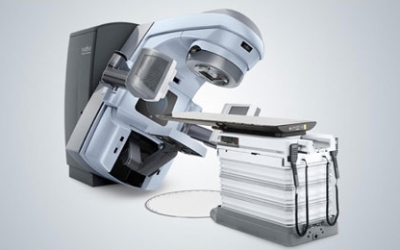 Because every cancer is unique, your treatment will be individualized for your specific needs. You will be provided with detailed information about the treatment process and your individualized plan. You will learn about what to expect during your course of treatment, common side effects, and be given the support resources that you may need during your treatments.
The following is what you can expect during your course of treatment. As outlined below, there are several steps that take place before you will receive your first radiation treatment.
Your first appointment at Radiation Oncology Consultants will be a consultation visit with one of our board-certified radiation oncologists. This visit will include a health history, a physical exam, and a discussion of treatment recommendations and/or options. It may be necessary to schedule other diagnostic tests in order to determine the best course of treatment and/or your physical ability to start treatment.
This is not an actual treatment. A simulation involves using a CT scan to determine the treatment field position. It will be at this time that pen marks and/or very small tattoos will be placed on the skin so that we can position you precisely for the radiation therapy treatment. The temporary skin markings indicating treatment areas should not be washed away until you are instructed to do so. If you are marked with permanent tattoos, do not attempt to remove them. These tattoos are a record of the location of the treatment field for your current treatment. These tattoos are very small "dots" that are the size of a very small mole, so they are very discreet.
Our radiation oncologist, physicist, and dosimetrist will design your personalized computerized treatment plan using your CT scan images. Additional MRI or PET scan images may also be ordered for this process. The number of treatments prescribed by your radiation oncologist will depend on the size, location, type, and radiosensitivity of the disease or tumor as well as your general health condition.
Once the treatment plan is approved by your radiation oncologist, the staff will work together to ensure that your specific treatment plan works correctly on the linear accelerator before treatment begins. Second checks are done on all calculations and your treatment plan is reviewed by a medical physicist to ensure that your individual plan is safe and accurate. A "dry run" is often completed for more complex treatments by the medical physicist to ensure that your radiation treatment will be done with the highest level of accuracy.
On your first day of radiation treatments, x-ray images will be taken to verify the correct positioning and setup of your treatment. The physician verifies and approves these images. This will be followed by your actual radiation treatment. The length of time for the treatment varies with each individual and depends on the type of treatment planned by your physician. Generally, the actual treatments take a short amount of time and are painless. The radiation therapists will position you on the treatment machine and will then leave the room during the actual treatment. It will be important for you to lie very still during the treatment. You will be monitored via an audiovisual system for your safety. Treatments are generally given daily, Monday through Friday, at approximately the same time each day.
Your physician will meet with you on a weekly basis to answer any questions, address any side effects you may be experiencing, and how you are feeling overall.
Once you are finished with your radiation treatments, your physician will set up appointments to monitor your progress and schedule necessary testing.