WhERE YOU RECEIVE CARE MATTERS.
AT NHO, WE DON'T JUST SAY oUR PATIENTS COME FIRST, WE SHOW IT with every visit.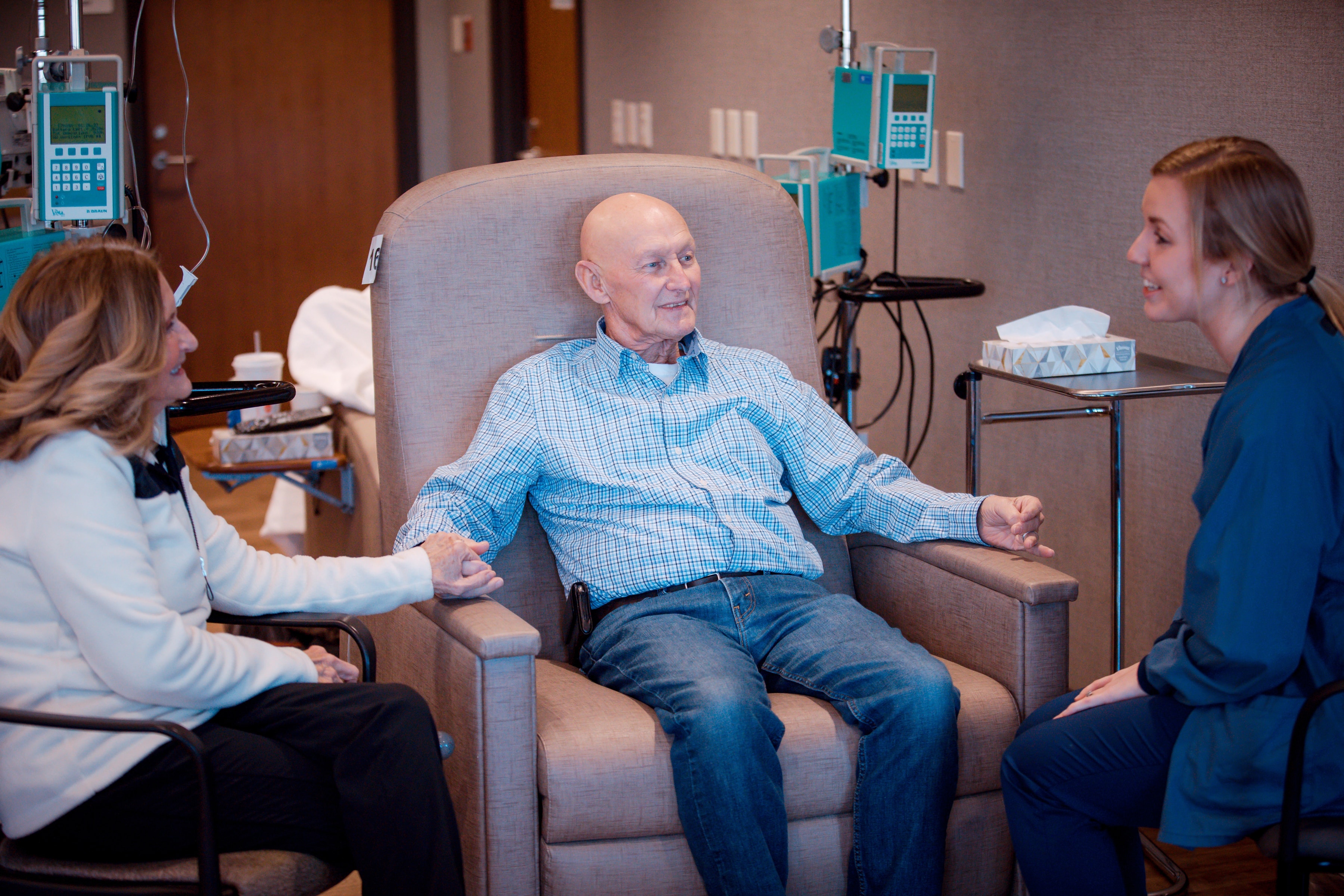 Nebraska Hematology-Oncology understands the challenges you and your family are facing after receiving a cancer diagnosis, and we're here to help. Every day, patients turn to us to find answers to difficult problems and, with the backing of a world-class care team, our cancer specialists will develop a treatment plan specialized for you with the ultimate goal of returning you to your life as quickly as possible.
The first thing you should know about us is we're a team and as a patient of NHO, we'll take a collaborative, comprehensive approach to treat different types of cancer and blood disorders. We fully understand that one piece of the clinic cannot operate smoothly without the other, so in order for us to be the best we can be for our patients we also have to be the best version of ourselves in maintaining open and honest communication, working ethically, and to challenge the building of knowledge to continue to support our patient population.
Our patients are our first priority. We understand the hurdles that accompany diagnosis and are here to carry some of that for you. Each patient has their own patient advocate that personally follows their journey, can explain those confusing insurance questions, and vividly understands what financial considerations may be available at each point of treatment.
Nebraska Hematology-Oncology prides itself on an independent, community-based model of cancer care that means that patient-centered, evidence-based treatment is closer than ever. This model assures that our patients have the freedom to make the care decisions that benefit themselves and their families - not health systems.
Having an on-site pharmacy makes obtaining medications easier, safer and more convenient for our patients at NHO. By providing an on-site pharmacy, NHO can dispense oral chemotherapy medications that may not be possible to fill at community pharmacies. With the ability to fill a prescription on the same day as an office visit at NHO, we are able to adjust medication doses without treatment delays. In addition, we strive to obtain financial assistance to help reduce costs to our patients whenever possible. Learn more...
Collaboration benefits all. The physicians at NHO communicate amongst one another, with your primary caregiver, and participate in regularly scheduled multidisciplinary tumor boards, reaching out to experts across the country to seek out the best care for each individual patient under our care. Constantly striving to do the very best, provide the very best, and support the patient in their lives the ways they wish to lead it.
Embracing change in support of continuous improvement of our patients is vital when we enter discussions of genetic services, treatment education, and advance directives. Providing care that is respectful of, and responsive to, individual patient preferences, needs and values, and ensuring that patient values guide all clinical decisions.

Nebraska Hematology-Oncology (NHO) has received reaccreditation by the Quality Oncology Practice Initiative (QOPI®) Certification Program, an affiliate of the American Society of Clinical Oncology (ASCO). The QOPI® Certification Program provides a three-year certification for outpatient hematology-oncology practices that meet the highest standards for quality cancer care.
"All of us at Nebraska Hematology Oncology are extremely honored to receive reaccreditation from ASCO and QOPI. This designation highlights our continued commitment to excellence for our patients," said Dr. Madhu Midathada. 
NHO first achieved QOPI certification in April of 2011. This marked the first time a Nebraska clinic received this certification.
"Practices that choose to apply for recertification through QOPI demonstrate their continued commitment to the pursuit of clinical care excellence," said ASCO President Clifford A. Hudis, MD, FACP. "The QOPI Certification Program helps such practices assess the level of care they provide to their patients and demonstrates their commitment to maintaining quality and lifelong learning."
QOPI analyzes individual practice data and compares these to more than 160 evidence-based and consensus quality measures. The information is then provided in reports to participating practices.  Individual practices are also able to compare their performance to data from other practices across the country. Based on this feedback, doctors and practices can identify areas for improvement.  
About ASCO
The American Society of Clinical Oncology (ASCO) is the world's leading professional organization representing physicians who care for people with cancer. With more than 30,000 members, ASCO is committed to improving cancer care through scientific meetings, educational programs and peer-reviewed journals. ASCO is supported by its affiliate organization, the Conquer Cancer Foundation, which funds ground-breaking research and programs that make a tangible difference in the lives of people with cancer. For ASCO information and resources, visit www.asco.org. Patient-oriented cancer information is available at www.cancer.net.
At Nebraska Hematology-Oncology, we believe that to best treat the disease we must first care for the person. We develop customized treatment programs based on the type and state of the cancer and the characteristics of the individual.
So please, familiarize yourselves with the clinic and let yourself rely on the team that you can trust. #TeamNHO
What People Are Saying About NHO...