Meet Hutch. He's an 18-month-old golden doodle. He's got quite the story about how he came to be with his owner and an even more unique story about how he got his name.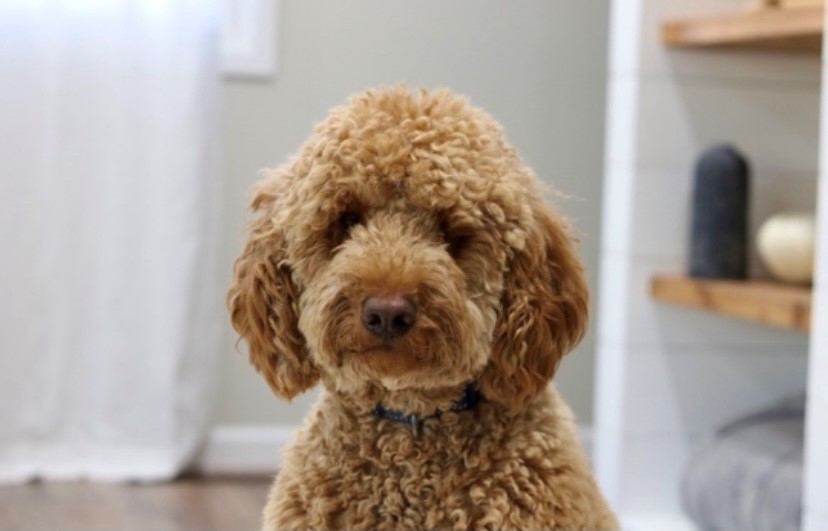 Meet Caitlin Phelps. She's a 28-year-old, young, active mental health counselor who has gone through a breast cancer diagnosis that ultimately showed her just how strong and brave she could be.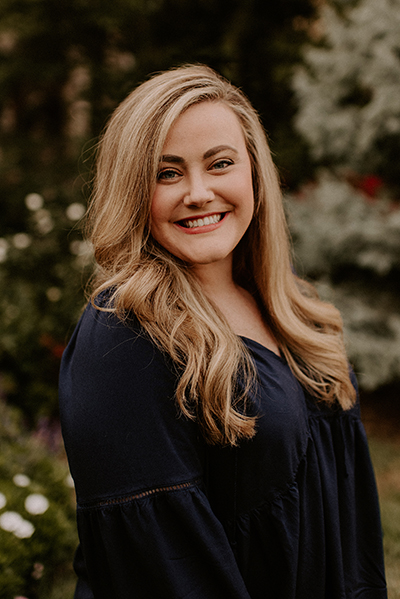 These two came into each other's lives amidst the most trying of circumstances. 
This story begins in June of 2018 when Caitlin was only 25 years old. With no family history of cancer, she came to her doctor after noticing a lump on her breast. Initially diagnosed as a benign cyst, she carried on resuming her normal activities.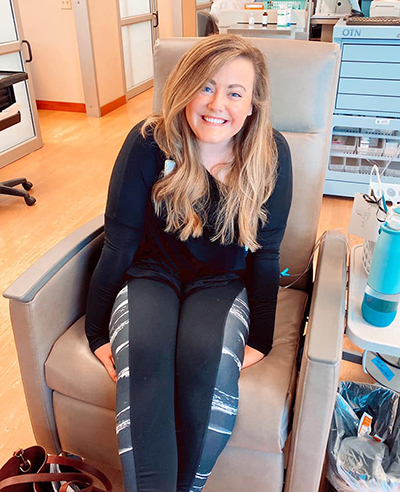 Pain in the same location a year later brought her back to her primary care provider. Following a biopsy, she was informed that she had stage III breast cancer with lymph node involvement. Now at the age of 26, her appointment at Nebraska Hematology-Oncology with Dr. Mark Hutchins was set for the very next week.
In her first meeting with Dr. Hutchins, she was nervous about her diagnosis. "At one point someone asked, 'how are you doing', and I just began to cry," said Phelps. 
Dr. Hutchins and the team at NHO worked with her to go over treatment possibilities. "They all made us feel very informed and always let me, as the patient, be in the driver's seat," commented Caitlin. "At one point, Dr. Hutchins said 'This is just a bad deal for you. We're going to do whatever we can do to get you through this'." After that statement, Caitlin and her family were confident that they'd found the right oncologist for them.
On the other end of the stethoscope, Dr. Hutchins was always impressed with the maturity of his young cancer patient. He quickly recognized that he was dealing with a young woman who had a lot of plans in life.
"She was very, very young," he commented. "It was clear that she wanted honesty and wanted to know the whole set of issues that confronted her. She was mature beyond her years. I saw only maturity, not denial. That was clear from the quiet tears during our initial conversation."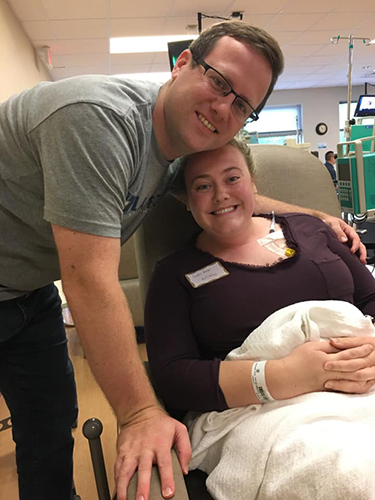 At just 26 years old, not many people that age must worry about coping with cancer. "Being young was hard and came with different challenges than others might have," stated Phelps. "Dr. Hutchins had such a good understanding of how my age factored into my diagnosis. They all realized that it was important to me to keep my identity outside of cancer."
Prior to treatment, Dr. Hutchins was thorough about determining the effects certain treatments may have on Caitlin's ability to one day have children. In addition, Caitlin took part in a process called cold capping that allowed her to keep most of her hair. She also wanted to determine how genetics may play a role in her cancer and worked with NHO APRN Ingrid Pakalniskyte on genetic testing that revealed that she was positive for the BRCA gene. Yet when her family members were tested, none of them were positive. All these things were of high importance for Caitlin, as they are for many young individuals with a cancer diagnosis.
Over the course of one year, Caitlin and her care team set up a game plan. Caitlin would go through six rounds of chemotherapy with targeted infusions based on the molecular characteristics of her cancer. After consulting with three different surgeons, she elected to have a bilateral mastectomy with reconstruction in January 2020, recognizing that she had a gene predisposing her to cancer in the opposite breast. Her surgery would be followed by radiation because of the presence of cancer in her lymph nodes at the time of diagnosis. The chemo prior to surgery was performed to help reduce the tumor size and reduce the risk of the cancer appearing at some other site in the future. The response to the pre-operative chemotherapy has a strong correlation to how well her cancer would respond to the therapy in areas where it may be growing but not yet apparent.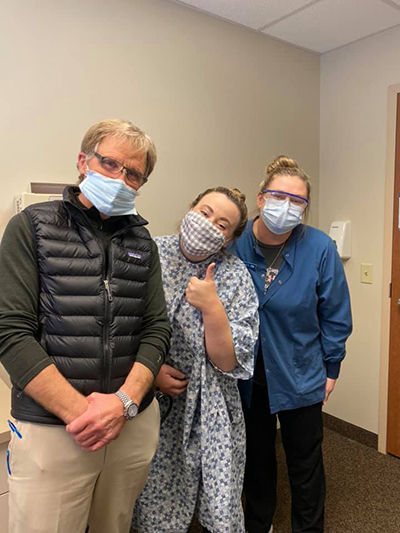 Her reconstruction, performed by Dr. Shannon Wong at the University of Nebraska Medical Center, was a "deep inferior epigastric perforator" flap (DIEP) procedure that would use Caitlin's own tissue as opposed to implant surgery. All of this has led her to a place where she is cancer-free and now only visiting the clinic for routine check-ins in addition to a hormone-blocking treatment for a total of five years.
Throughout her entire journey, she credits her care team at NHO, especially Dr. Hutchins, with so much. "Hutch has always been very protective of me. I know that he cares because of how he treats me. He'll call or text just to check in on me."

In fact, Dr. Hutchins' care for his patients goes far beyond the walls of the clinic where he sees and treats them regularly. This was evident by the fact that when he found out that Caitlin and her father (who share a love of music) had a musical performance scheduled at The Harbor Coffeehouse, Hutchins showed up to support them. Another meaningful gesture to showcase how the doctor who has been in practice for 42 years truly cares about his patients and families beyond their diagnosis.
"All of the team at NHO is truly amazing from the nurses to the front desk staff and beyond. Notably, Hutchins' nurse Kelley played such a vital role in my treatment and our family is so beyond grateful for her thoughtful care," said Phelps.
In addition to her NHO team, Caitlin has an amazing family supporting her the entire way. She has always been very close to her family - her parents, three siblings, three in-laws, and six nieces and nephews. Caitlin is also blessed with amazing extended family and many close friends who played an integral part in her treatment. She expresses much gratitude for her family, friends, and faith that all played a key role in supporting her through the difficulty of treatment and beyond.
"I never felt alone," she said. "Of course, I was having to experience the effects of cancer in my body, but I felt as if my family and close friends were alongside me every step of the way. It was truly a beautiful gift of community and love."
"Her parents were remarkable," stated Dr. Hutchins. "They were attentive without being intrusive. Supportive without interfering or usurping Caitlin's autonomy. Her parents' support in such a profoundly difficult set of circumstances was one of the keys to her success thus far."
Shortly after her radiation, Caitlin began to reflect on how much she'd always wanted a companion during her chemo treatments. Now, being in a healthier place, the decision had been made to welcome her new four-legged friend into her home. Because her desire for a dog arose in large part due to her cancer diagnosis, she brainstormed a name she could give her pup that would signify such a meaningful time in her life. When the idea emerged to name her pup "Hutch", in honor of Dr. Hutchins, it just felt right. That's when Hutch got his name, after the doctor who guided her through her unwanted battle.

"I always knew a dog would help with coping, comforting, and emotional support, and the name Hutch felt perfect - in honor of someone who cared for me so well during one of the darkest times of my life," said Phelps. "Now that I'm through active treatment, instead of Dr. Hutchins that is taking care of me, it's Hutch the dog!"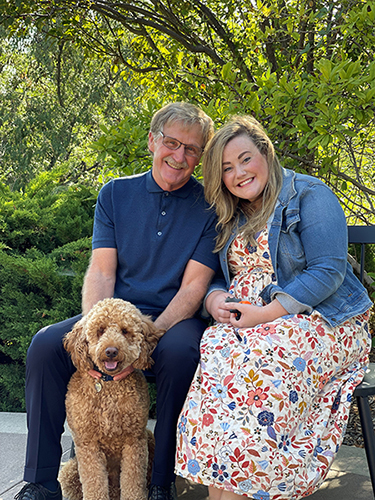 After only having Hutch for a few months, Caitlin brought the golden doodle to NHO to meet his namesake and really helped her complete the circle of support that she has had bringing her through this trying time over the past few years. 
Dr. Hutchins was certainly honored. "Her selection of the moniker 'Hutch' for her new puppy filled me with a quiet sense of gratitude knowing that she was comfortable using her doctor's nickname to name her new baby puppy."
Caitlin can now reflect on what her cancer journey has taught her. And although Hutch will always have a name associated with a trying part of her life, she knows that what she's had to endure, will make her stronger moving forward.

"I, of course, never planned for cancer to be a part of my story, especially at age 26. I also would have never believed that I would be able to endure chemo, multiple surgeries, blood draws, radiation, and so much more, but I feel beyond grateful for the courage I found within myself to move through it. The gift of gratitude was multiplied for me throughout cancer - for doctors, nurses, research, treatment, medications, family, friends, and so much more. I know now more than ever before, even if the darkness is heavy, there is always, always light."