LINCOLN, Neb. – Nebraska Hematology-Oncology (NHO) is one of only nine practices nationwide to have achieved certification through the Association for Clinical Oncology's (ASCO) Patient-Centered Cancer Care Certification pilot based on its adherence to oncology medical home (OMH) standards, a single set of comprehensive, expert-backed standards for patient-centered care delivery. Published by the American Society of Clinical Oncology and the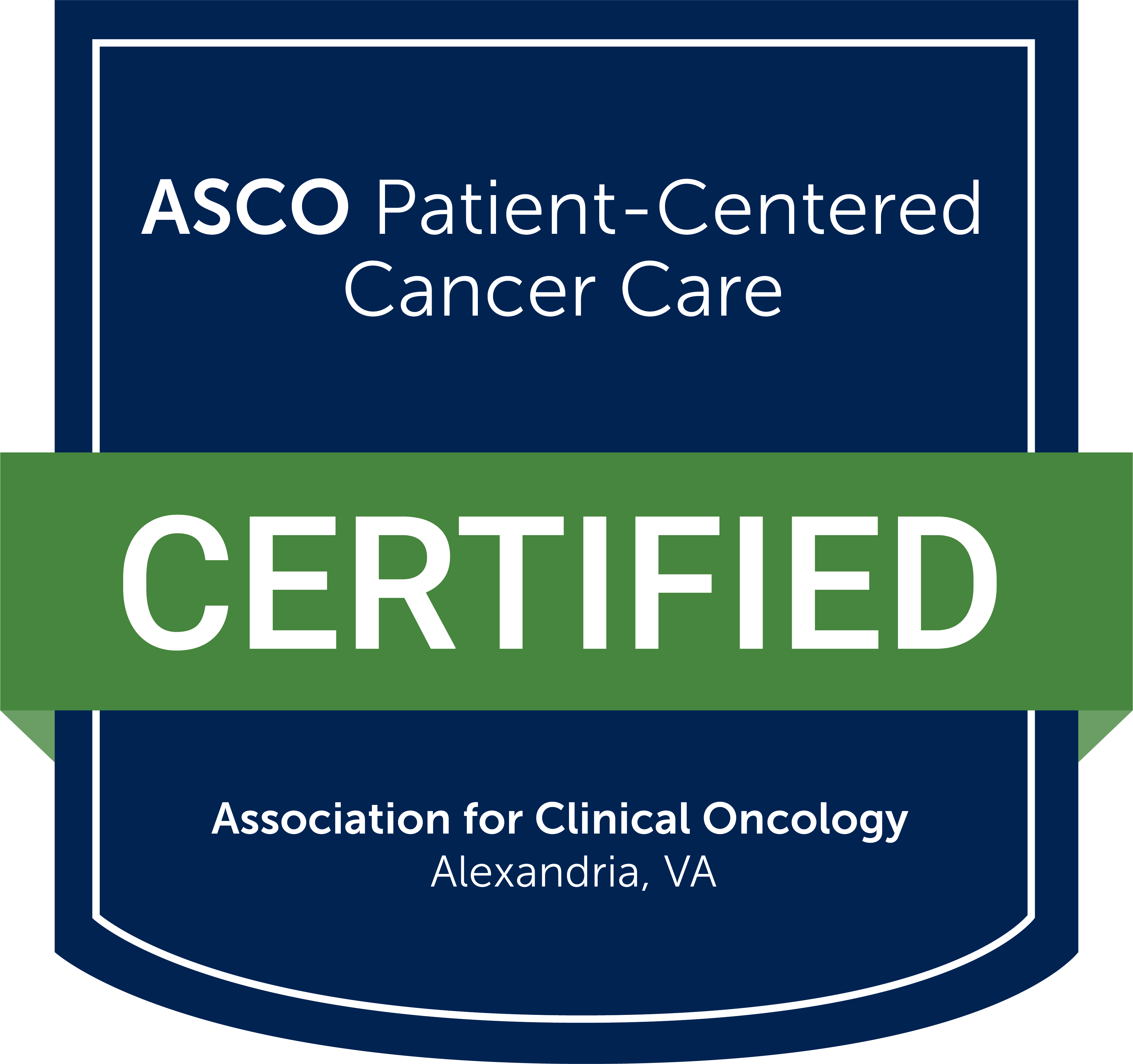 Community Oncology Alliance (COA), these standards focus on seven different domains of cancer care: patient engagement; availability and access to care; evidence-based medicine; equitable and comprehensive team-based care; quality improvement; goals of care, palliative, and end-of-life care discussions; and chemotherapy safety.
"We are thrilled to be able to demonstrate our commitment to providing high-quality cancer care through this certification," commented Amy King, Chief Executive Officer for Nebraska Hematology-Oncology. "Our participation in this program helped us to implement new efficiencies that emphasize our commitment to put patients first. We have found ways to reduce costs to patients, address barriers that could affect our patients' treatments, and work more collaboratively with other healthcare teams to ensure the needs of our patients are being met in every phase of their health. Being the first practice in Nebraska to achieve this certification should allow our patients to feel secure in the fact that their medical team is constantly striving to provide the best care possible with their health as the primary focus."
The ASCO Certification Program awarded certification to the first group of participants, including:
•    Cancer & Hematology Centers of Western Michigan, a partner of OneOncology
•    Central Georgia Cancer Care
•    Hematology-Oncology Associates of CNY
•    Jefferson Health – Sidney Kimmel Cancer Center
•    Tennessee Oncology, a partner of OneOncology
•    The Center for Cancer and Blood Disorders, a partner of OneOncology
•    Nebraska Hematology-Oncology, PC
•    New England Cancer Specialists, Affiliate Member of Dana Farber Cancer Institute
•    Memorial Cancer Institute
Beginning in July 2021, NHO along with other participating practices in the United States, prepared for surveyors to conduct site visits to performance relative to each OMH standard of care. With guidance from surveyors, NHO then undertook intensive practice transformation, including the development of new and/or improved workflow processes, staff education and training on the new initiatives, and compliance data monitoring to demonstrate success at meeting the standards. To achieve certification, practices needed to meet a total of 17 care delivery standards and 22 chemotherapy safety standards, for a total of 39 standards.
NHO will continue to work with surveyors to review quality improvement initiatives, patient satisfaction surveys, and oncology clinical pathways utilization, as well as data on quality measures, such as advance care planning, depression screening, chemotherapy in the last 14 days of life, and pain assessment to maintain certification and demonstrate its continued commitment to providing high-quality cancer care.
"We commend all of the certified practices for their achievement and dedication to transforming their practice. By doing the work to meet these standards and achieve certification, these practices are better equipped to succeed in a value-based system and deliver high-quality, equitable, evidence-based care for every single patient," Lori J. Pierce, MD, FASTRO, FASCO, Chair of the Board of the Association for Clinical Oncology. 
The pilot is slated to end in Summer 2023. Over the next year, NHO will continue to work on quality assessment and improvement activities to maintain its certification.
About Nebraska Hematology Oncology: Nebraska Hematology-Oncology has been serving Lincoln and surrounding communities since 1997. With five Physicians, ten Advanced Practice Providers, and over 90 staff committed to person-first care, NHO has gained a reputation for being a leading care facility for cancer and blood disorders in the Midwest. As the first QOPI-certified clinic in Nebraska, NHO has been identified as a cancer center that meets the highest standards for quality cancer care. More information about NHO can be found at YourCancerCare.com. 
About ASCO: The Association for Clinical Oncology (ASCO®) is a 501 (c)(6) organization that represents nearly 45,000 oncology professionals who care for people living with cancer. Established by the American Society of Clinical Oncology, Inc. in 2019, ASCO works to ensure that all individuals with cancer have access to high-quality, equitable care; that the cancer care delivery system supports optimal cancer care; and that our nation supports robust federal funding for research on the prevention, screening, diagnosis, and treatment of cancer. Learn more at www.ascoassociation.org and follow us on Twitter at @ASCO. 

-30-