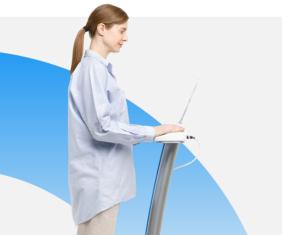 Staff at Nebraska Hematology-Oncology are using a new device that makes it remarkably easy and convenient to screen for lymphedema.
The new technology, ImpediMed's Sozo, is changing the way patients, care teams, and researchers approach lymphedema, a common side-effect following surgery for breast cancer and other cancers. It can lead to painful swelling, usually in patients' arms or legs.
To screen for lymphedema with Sozo, patients now simply remove their shoes and socks and stand on what looks like a scale. In a couple of minutes, the screening is complete. Results are immediately downloaded to a tablet, which connects to the patient's medical record.
The clinician conducting the screening does not need specialized training. And the devices are small, so they require minimal space in the clinic.
"At Nebraska Hematology-Oncology we continually strive to provide the best possible care for our cancer patients," said Amy King, Chief Executive Officer at NHO. "For us, this means both delivering excellent care to our patients during treatment and after they have completed treatment. Cancer survivorship is growing rapidly as a result of improved treatments and we are proud to be the first cancer center in our region to offer lymphedema prevention as a service to our patients."
How is it different?
According to ImpediMED, the Sozo device uses Bioimpedance, which refers to the process of sending a painless electrical current, typically at one or more frequencies, through the body.
Measuring the body's resistance and reactance in response to this electrical current provides easy access to detailed information regarding fluid and tissue status without the need for an invasive procedure.
The screening process required specially trained staff and takes 20-30 minutes.
If you'd like to learn more about this program, please call 402-484-4900 or talk to your doctor.